You've gone Down The Rabbit Hole. Now ascend The Stairway To Wisdom.
A  weekly newsletter from the minds at HighExistence.
Over the past year, we've been publishing the wonder-inducing weekly email known as "Down The Rabbit Hole," and now we're taking it a step further.
We want our readers not only to feel a deep sense of enchantment towards the world around them but also to apply deep teachings to their daily life so they can experience the life-transforming benefits of wisdom-in-action.
The Stairway to Wisdom is a premium weekly newsletter for those who are ready to dive deeper. We've partnered with independent researcher and knowledge connoisseur, Matt Karamazov, who has taken sharp, meticulous notes on over 1000 books so that he could share the most inspiring pearls of wisdom with the world.
Here's what you get when you sign up for The Stairway to Wisdom:
The Weekly Newsletter
"Great first newsletter - love it! It's good to know that the authors of the summaries share similar values and are deeply interested in the topics - unlike mass productions like Blinkist etc." -Robert
This premium newsletter is specifically designed to help you take what you learn and apply those insights to your life in a way that makes a meaningful, positively transformational difference over time.
Unfortunately, so many people today just mindlessly play podcasts in the background of their lives, breeze through books without ever engaging with them, and scroll through articles without ever applying the teachings within them.
Tragically, they treat this time as a form of procrastination in which they gain a feeling that they're moving forward, when really they're only playing mental gymnastics around possibilities they could pursue, without ever taking any substantial action. Don't let that happen to you!
This newsletter curates uncommon ideas and high-velocity concepts you can implement immediately to improve the quality of your life and your moment-to-moment well-being.
You'll be given strategies and advice on how to introduce them to your life in a seamless fashion, while being exposed to novel principles that most people have never heard of before.
This is NOT a repository for cliches or overshared quotes. It's a space to discover the works of brilliant minds who have already grappled with - and answered - some of life's most difficult questions.
The Everlasting Library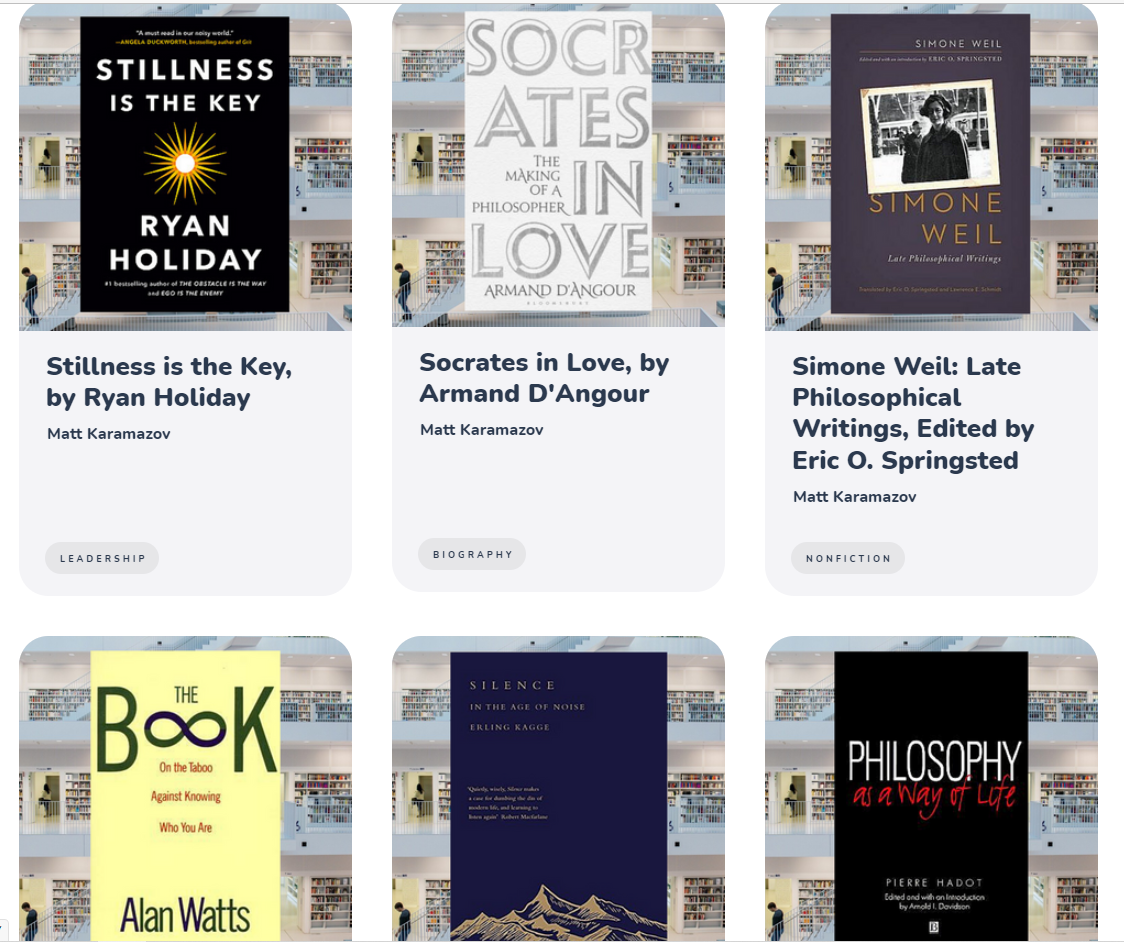 Along with your newsletter subscription, you'll get access to an ever-growing library of detailed and actionable book breakdowns. Here you'll be able to absorb the biggest ideas and most powerful concepts from ancient sages, best-selling authors, and lesser-known geniuses.
There are already 50 summaries in the library and you'll receive 4 new book breakdowns every month (1 per week) to keep your mind nourished with novel ideas and inspiration.
As you can see below, these are not just simple summaries. They are densely packed with key ideas to understand the core thrust of the book, action steps to implement important lessons, and curated insights to dive deeper into the author's thinking.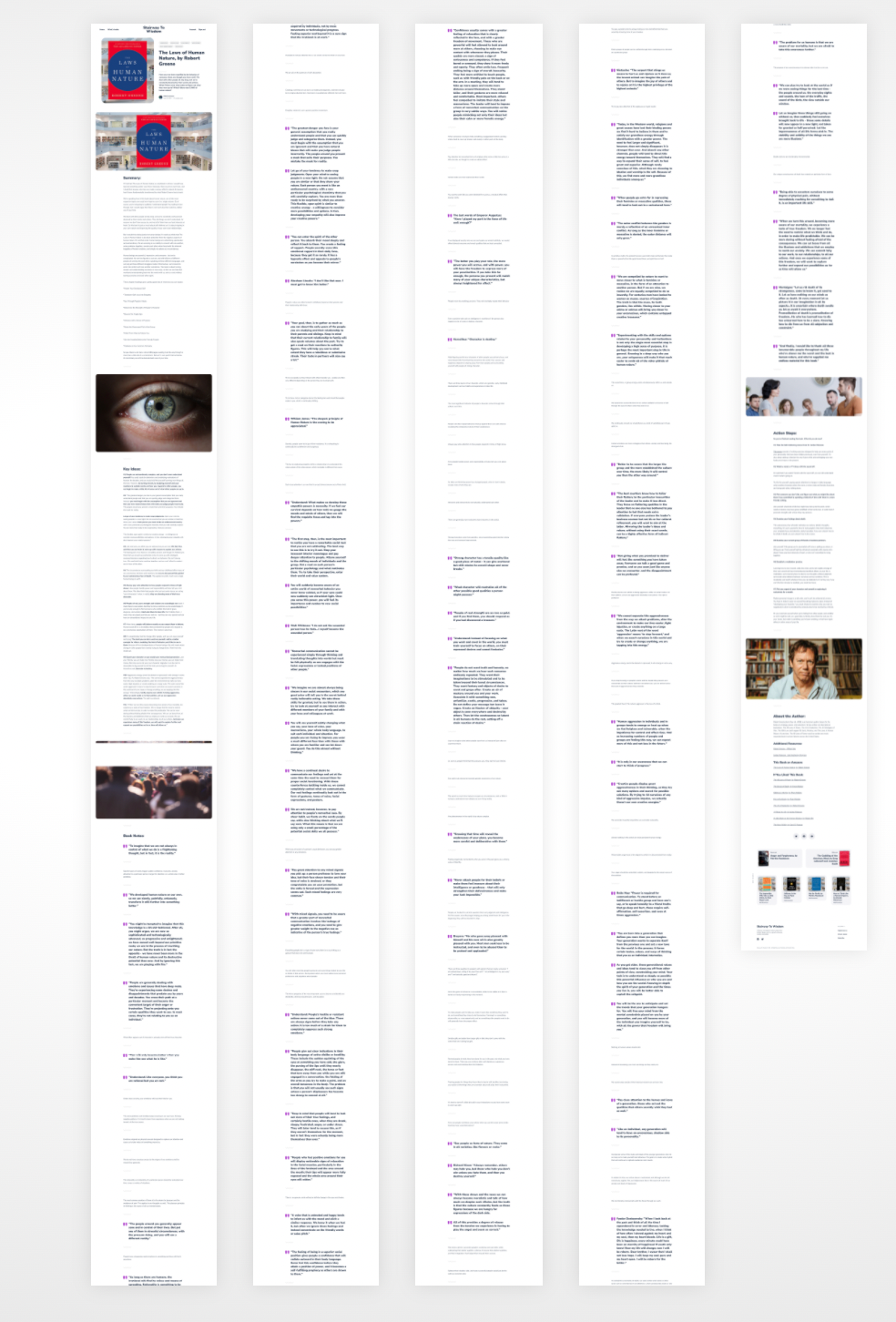 Here are just some of the titles already waiting for you:
The Laws of Human Nature, by Robert Greene
Atomic Habits, by James Clear
Anger and Forgiveness, by Martha Nussbaum
The Book, by Alan Watts
The Stoic Challenge, by William B. Irvine
Be Here Now, by Ram Dass
Can't Hurt Me, by David Goggins
Limitless, by Jim Kwik
Stillness is the Key, by Ryan Holiday
Self-Compassion, by Kristin Neff
And more!
Ready For Your First Issue?
Although you'll still receive Down The Rabbit Hole every week for free, to access The Stairway to Wisdom you'll need to choose a subscription.
You'll get immediate access to the first newsletter and 50+ book breakdowns with fresh newsletters sent every Friday.